Trailblazer: Genevieve Bell - a leading mind in cybernetics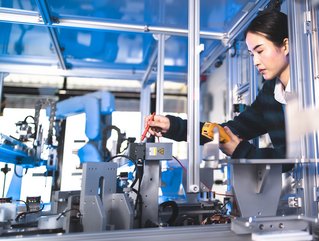 Genevieve Bell is Director at the School of Cybernetics and 3A Institute (3Ai) at the Australian National University. We chart her huge global influence
Distinguished Professor, Genevieve Bell, AO FAHA FTSE, is the Director of the School of Cybernetics and 3A Institute (3Ai) at the Australian National University, and a Vice President and a Senior Fellow in the advanced research and development labs at Intel Corporation.
Recently nominated in our Top 100 Women in Technology, Bell holds a PhD in cultural anthropology from Stanford University and is a renowned anthropologist, technologist, and futurist, having spent more than two decades in Silicon Valley. There, she helped guide Intel's product development, as well as the company's social science and design research capabilities, and is best known for her work at the intersection of cultural practice and technology development. An influential voice within academia, industry and government, she has a vital role in the global debates surrounding artificial intelligence and human society.
Bell is inspired by American-Canadian speculative fiction writer and essayist William Gibson ‒ father of the cyberpunk subgenre cyberpunk ‒ and his quote: "The future's already here, it's just unevenly distributed."
Of the quote, Bell explains to dovetail.app: "It's a lovely provocation because it means if you know how to find it, you can find the future today."
Explaining cybernetics
In her #mtpcon Digital APAC keynote, Bell explains that the term 'cybernetics' was coined by Norbert Wiener, a mathematician, philosopher and computer scientist, who drew inspiration from the Greek word 'carbonates' — a word describing the person who steers a boat. The journey that cybernetics was concerned with in 1946 (one pursued by 'cyberneticians') was humanity's conquest into the digital age, as "governments, universities, and companies were all competing to take advantage of recent innovations, all over the world", according to Bell.
In cybernetics, Bell explains that Wiener created a "world that would reflect how humans might be in control of these technical systems as they unfolded". Bell states he "believed that, as the power of computing expanded, the world would become a whole new kind of feedback loop; not just a mechanical one, but a biomechanical one — one that would evoke computers and humans and the environment".
On her position in the industry, Bell says: "For me, whenever I talk about the future and about technical systems, I'm hugely aware that I'm doing that in a place where humans have been making the future and making technology for at least 80,000 years." In this way, she illustrates a central principle of cybernetics: 'start with the human at the centre of all of your processes'.
Understanding people and stories crucial when building technology
Speaking to the New York Times, Bell says: "My mandate at Intel has always been to bring the stories of everyone outside the building inside the building — and make them count. You have to understand people to build the next generation of technology."
In 2017, Genevieve returned to Australia and established the 3A Institute at the Australian National University in collaboration with CSIRO's Data61, with the mission of building a new branch of engineering to safely, sustainably and responsibly scale AI-enabled, cyber-physical systems.
Last year, she was appointed Director of the new School of Cybernetics at the Australian National University, which, as well as housing the 3A Institute, will build out capacity in Systems and Design.
She also presented the highly acclaimed ABC Boyer Lectures for 2017, in which she investigated what it means to be human ‒ and Australian ‒ in a digital world.
Other qualifications for Bell include being a member of the Prime Minister's National Science and Technology Council, Fellow of the Australian Academy of Technology and Engineering (ATSE), Fellow of the Australian Academy of the Humanities (AAH), SRI International Engelbart Distinguished Fellow and an Officer of the Order of Australia.
Bell has co-written three books: Getting Connected, Staying Connected: Exploring South Australia's Digital Futures (2009), Divining a Digital Future: Mess and Mythology in Ubiquitous Computing (2011) and Data, Now Bigger and Better! (2015).