Top 10 largest non-US tech companies 2021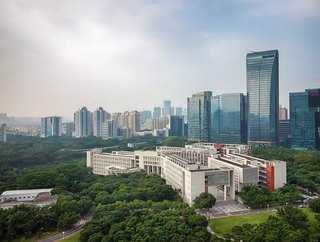 We look at the 10 largest technology companies outside of the tech powerhouse that is the United States based on market capitalsiation...
10: SAP, $164.4bn
Enterprise software giant SAP is an inescapable presence in the business world, thanks to its very well known enterprise resource planning software. The company is headquartered in the small town of Walldorf, eschewing a big-city location.
09: SoftBank, $166.9bn
Japanese conglomerate SoftBank is well known for its investments in startup technology companies, with its portfolio including the likes of ByteDance (the owner of TikTok) and Uber. Those investments were part of its Vision Fund, with the latest iteration of the investment vehicle promising to focus on AI
08: Medtronic, $169.7bn
Medtronic's place on this list might be controversial, owing to the fact that, until 2015, it was based in the US. Nevertheless, the medical technology giant creates a range of devices, with products that include cranial robotics, insulin pumps and patient monitoring systems.
07: Prosus, $187.38bn
Internet platform company Prosus is among the world's largest technology investors, with significant stake in some of the world's largest platforms, including PayU, Delivery Hero and, most significantly, Tencent.
06: Meituan, $219.8bn
One of three Chinese ecommerce firms on this list, Meituan focuses on local consumer products and group discounts, with a raft of different shopping platforms, apps and websites distributed across the country.
05: ASML Holding, $268.9bn
One of two Dutch companies on this list, ASML Holding is far from a household name, and yet the effects of its offering are felt far and wide. As a supplier of photolithography systems for the semiconductor industry, ASML's machines make integrated circuits possible by creating the intricate patterns for the electrical connections on chips.
04: Samsung Electronics, $510.6bn
Samsung is a prime example of the uniquely South Korean phenomenon of the chaebol, or a family run conglomerate. Its interests are vast - active across a broad swath of electronics products from fridges to phones.
03: Taiwan Semiconductor, $558bn
Taiwan Semiconductor is the world's largest dedicated semiconductor foundry, and a pioneer of the "pure play" business model for semiconductor foundries that has come to dominate the industry. The model means that it does not design, manufacture or market semiconductors under its own name to avoid competing directly with its customers.
02: Alibaba, $651.4bn
Alibaba's main businesses are its ecommerce site Alibaba.com, Taobao and Tmall, but its interests are vast, stretching from electronic payments to AI and numerous other services. The company invented the Singles' Day shopping bonanza, which takes place on 11 November yearly, and puts Black Friday to shame with sales in 2019 totalling $38.4bn.
01: Tencent, $780bn
China's Tencent is a holding company, which through its subsidiaries and associates its offering includes WeChat and Riot Games, as well as a stake in JD.com. The company is led by Pony Ma and headquartered in twin skyscrapers known as Tencent Seafront Towers.